2 min read
PRESS RELEASE: Impact report- public equity funds at a glance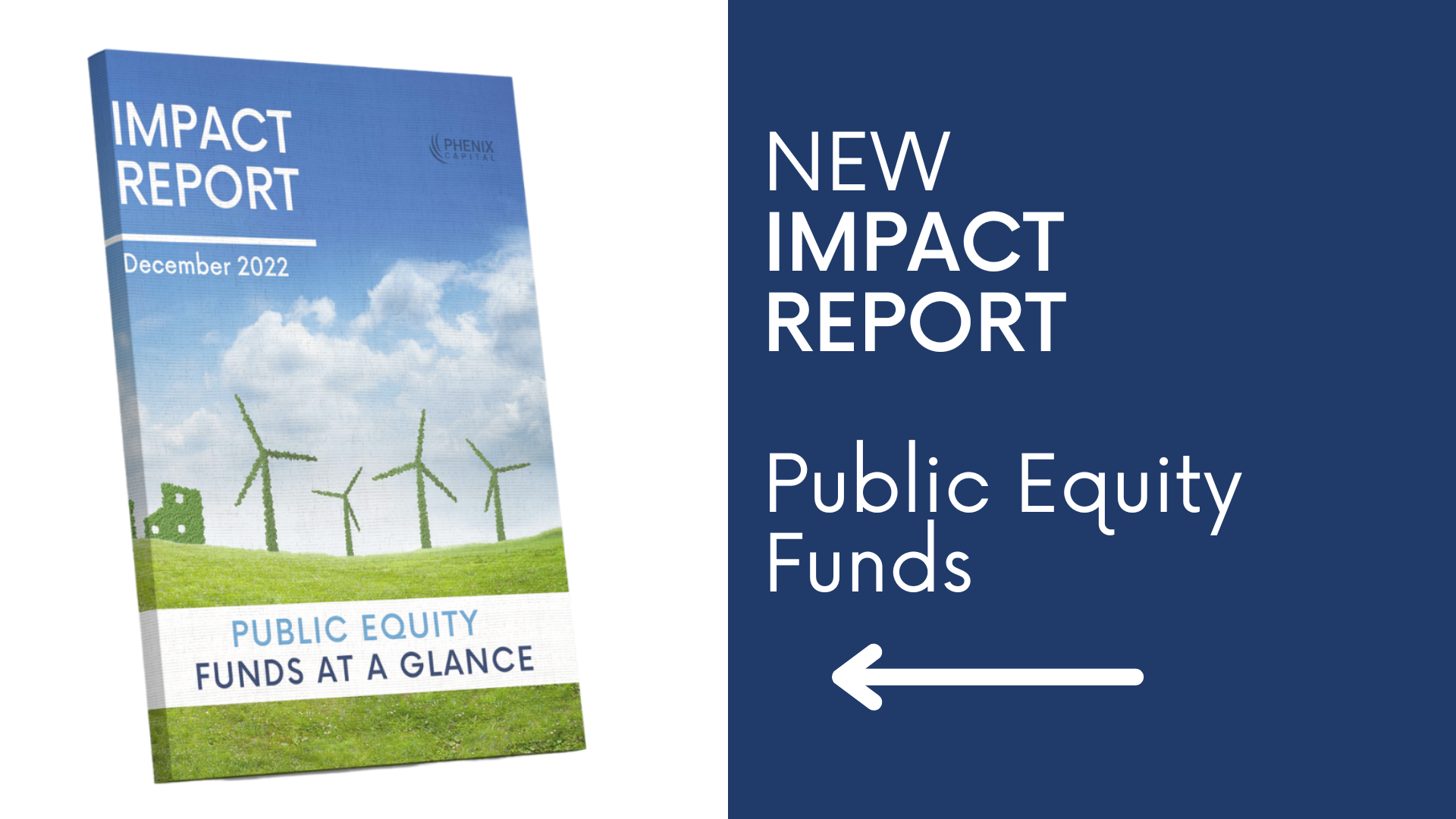 Amsterdam, December 15, 2022: Phenix Capital Group is pleased to announce the release of its latest impact report on the developments of public equity funds. This asset class represents 9.21% of funds in their Impact Database, and the report provides an in-depth analysis of its performance and trends.
The allocation amongst SDGs is quite evenly distributed compared to other asset classes. It is of interest to note however, that climate related SDGs receive considerably more funding than social related SDGs. SDG 7 is the most targeted by public equity funds. This Goal has two impact themes. Most of the funding is going towards "Transition towards renewable energy".
Since 2019, the number of impact public equity funds launched have consistently decreased. Phenix Capital observes that occasionally funds with older vintages change their mandate to include sustainability and impact.
Additionally, the report contains an exclusive interviews with the research team from WisdomTree. In 2006, WisdomTree launched one of the first factor investing ETFs in the world, making innovation the core of WisdomTree philosophy. And Rebecca Lewis, Co-CEO from Arisaig Partners. An asset manager focused on listed equity businesses that access purposeful growth in emerging markets.

"Just like the mobile phone companies that are incentivising their customers to return their old phones when they wish to upgrade, the same principles can be applied across industries. In things like batteries, which are going to be crucial in delivering the energy transition away from fossil fuels, the recycling of scarce materials will ensure sustainable growth of related technologies." - Mobeen Tahir, WisdomTree

"Our largest Chinese holding supplies high quality medical devices at affordable prices to hospitals in China and across the world. Its products meet US and European certification standards, yet prices are up to 30% lower than comparable Western brands. This value-for-money positioning means that hospitals can purchase more, higher quality equipment, thus facilitating better healthcare to more people." – Rebecca Lewis, Arisaig Partners
Number of impact public equity funds launched consistently decreased since 2019
KEY REPORT TAKEAWAYS
One third of total capital raised on the Phenix Database has been towards Public Equity.
Within Public Equity, climate related SDGs receive considerably more funding than social related SDGs.
Total capital committed towards Public Equity has remained relatively stable from 2022 Q2 to Q3 but we observed slight decreases in almost all funds.
Emerging markets account for less than 2% of total capital commitments. One of the reasons may be due to the scarcity of IPOs, and market-related risks of those regions.
The report also reveals that public equity funds performed at a negative rate in Q3, with a median 3-month trailing return of -3.1%. The majority of funds also reduced capital commitments from Q2 to Q3.

Beyond the free report, more data can be found in Phenix Capital Group's Impact Database – a comprehensive database of impact investment funds across the globe.
Phenix Capital Group is an impact investment consultant that enables institutional investors to make impact investments. Founded in 2012, the company has been dedicated to building a solid knowledge base of the impact investing industry, educating asset owners, and catalysing institutional capital to impact investing.

Phenix Capital Group's Impact Database provides investors with access to and intelligence on the impact fund market opportunities available to them. Three main variables are used to construct, monitor and update the dataset: 1) funds considered to have an impact proposition; 2) institutional scale, and 3) target market-rate returns. The Impact Database includes a detailed overview of more than 2,050+ impact funds.
For more information or interview requests, please contact our team at info@phenixcapitalgroup.com or call + 31 20 240 27 31.
If you would like to receive updates on the latest publications, impact events and product developments, sign up to our monthly newsletter. This will not affect your receiving of the Phenix Capital Group press releases.