SDG 6:
Clean water and sanitation
SDG 6, what is it?
SDG 6 Clean Water and Sanitation aims to ensure the availability and sustainable management of water and sanitation for all. It is composed of the following 8 targets:
6.1 By 2030, achieve universal and equitable access to safe and affordable drinking water for all
6.2 By 2030, achieve access to adequate and equitable sanitation and hygiene for all and end open defecation, paying special attention to the needs of women and girls and those in vulnerable situations
6.3 By 2030, improve water quality by reducing pollution, eliminating dumping and minimizing release of hazardous chemicals and materials, halving the proportion of untreated wastewater and substantially increasing recycling and safe reuse globally
6.4 By 2030, substantially increase water-use efficiency across all sectors and ensure sustainable withdrawals and supply of freshwater to address water scarcity and substantially reduce the number of people suffering from water scarcity
6.5 By 2030, implement integrated water resources management at all levels, including through transboundary cooperation as appropriate
6.6 By 2020, protect and restore water-related ecosystems, including mountains, forests, wetlands, rivers, aquifers and lakes
6.A By 2030, expand international cooperation and capacity-building support to developing countries in water- and sanitation-related activities and programmes, including water harvesting, desalination, water efficiency, wastewater treatment, recycling and reuse technologies
6.B Support and strengthen the participation of local communities in improving water and sanitation management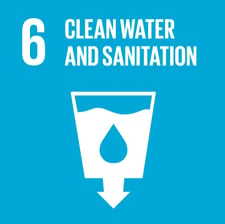 SDG breakdown per asset class
According to our Impact Database, Funds launched in 2020 for deep dive on ocean funds raised more than 1.5 billion Euros. The total target size of Ocean funds currently open for investment is 2 billion Euros, with an average target size per fund of 130 million Euros
In the graph, it can be seen the capital commitments towards Ocean funds by region and vintage year.
Data provided by Phenix Capital's Impact Database (May 2021). Impact Database maps the impact fund universe across all asset classes. Register for free demo.