2 min read
PRESS RELEASE: Conservation & Biodiversity
Amsterdam, October 31, 2022: Phenix Capital Group has released today its Conservation & Biodiversity Funds Report, revealing that capital commitments have had an inconsistent inflow over the past 7 years. Conservation and biodiversity funds launched in 2020 fundraised the most, which caused the number of funds launched the following year, in 2021, to reach a record high.
However, the forecasted fundraising didn't meet expectations. This led to a significant discrepancy in 2021, which saw the capital committed drop significantly. Post-2020, we saw a decline of 55% year over year in capital commitments towards Conservation & Biodiversity. This was due to many factors, ranging from a worldwide pandemic to investors preference for other impact themes such as Circular Economy, Net-zero, and others.

OTHER KEY REPORT TAKEAWAYS
• The emergence of green bonds in public debt has been paramount. In fact, there was nearly 15 billion euros of capital committed towards global markets. This figure accounts for more than 80% of all the allocated capital towards this market within public debt.
• In parallel, real assets are heavily focused on developing markets, accounting for 2/3 of allocated capital.
• The weight of capital amongst other asset classes also lies heavily in favour of developing markets, showing public debt is the outlier.
Funds targeting Conservation & Biodiversity represent 6.5% of funds from Phenix Capital's Impact Database. The majority of funds targeting Conservation and Biodiversity are open for investments. This presents a ripe opportunity for investors trying to enter the space. We are yet to see the result of funds with 2022 as vintage - funds launched this year are still being counted.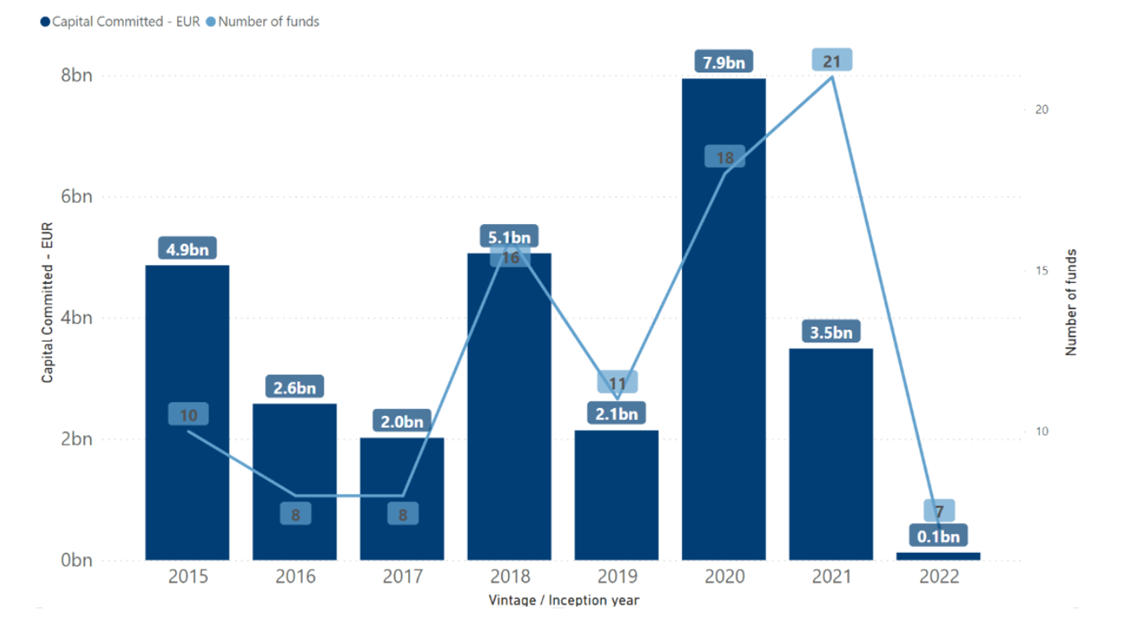 Graph from the Phenix Capital Group's Impact Report on Conservation & Biodiversity Funds, revealing inconsistent capital flow through the years and the record of capital commitments in 2020 followed by an unexpected drop in 2021.
Funds targeting Biodiversity have reached a record high – followed by a 55% decline

INTERVIEWS
The report also brings exclusive interviews with two industry players:
• Kilter Rural, an investment firm in Australia, which, for 18 years, have been delivering returns to investors through natural capital investment solutions across farmland, water and ecosystem assets.
• SLM Partners, an asset manager that uses capital to scale up regenerative farming and forestry, investing for more than a decade in land and real assets, and partnering with local operators.
"We have species that occur nowhere else in the world. There's a value in this that is not recognised nor captured, certainly not financially", declared Cullen Gunn, Chief Executive Officer of Kilter Rural.

"We think that investors can go beyond this and invest in strategies that have direct, positive impacts on biodiversity. One of the best ways to do this is by investing in natural real assets, i.e. agriculture and forestry, as these are the human activities that have the potential to improve biodiversity outcomes the most", affirms Paul McMahon, co-founder and Managing Partner of SLM Partners.
Beyond the free report, more data can be found in Phenix Capital Group's Impact Database – a comprehensive database of impact investment funds across the globe.
About Phenix Capital Group

Phenix Capital Group is an impact investment consultant that enables institutional investors to make impact investments. Founded in 2012, the company has been dedicated to building a solid knowledge base of the impact investing industry, educating asset owners, and catalysing institutional capital to impact investing.
Phenix Capital Group's Impact Database provides investors with access to and intelligence on the impact fund market opportunities available to them. Three main variables are used to construct, monitor and update the dataset: 1) funds considered to have an impact proposition; 2) institutional scale, and 3) target market-rate returns. The Impact Database includes a detailed overview of more than 2,050+ impact funds.
For more information or interview requests, please contact our team at info@phenixcapitalgroup.com or call + 31 20 240 27 31.
If you would like to receive updates on the latest publications, impact events and product developments, sign up for our monthly newsletter. This will not affect your receiving of the Phenix Capital Group press releases.